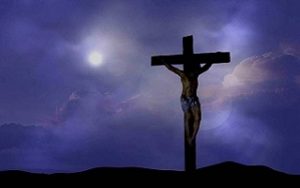 Tears streamed down our cheeks as with horror we watched video recordings of the Notre Dame Cathedral being consumed by fire. We listened as crowds watching sang "Ave Maria." The day before the fire, Palm Sunday worshipers recalled Jesus' triumphant entry into Jerusalem greeted with cheers and waving palm branches. Later in the week, the same crowd would shout, "Crucify him."
On Friday, Good Friday, we will sing, "Were you there when they nailed him to the cross?" The particular week during which the cathedral burned did not go unnoticed. "That this (fire) happened at the beginning of Holy Week" said Antoine-Marie Izoard, editor of the French Catholic magazine Famille Chretienne, "makes it even more striking and calls us to Christian hope."
Within a day of the fire, President Emmanuel Macron vowed to rebuild the cathedral, announcing pledges of more than $300 million toward the cost of restoring "our" sacred 12th century church.
"Were you there when they crucified my Lord?" On this side of Easter we experience countless "little" crucifixions.
Three churches in Louisiana: Greater Union Baptist, Mount Pleasant Baptist, and St. Mary Baptist were destroyed within days of each other lost to the work of an arsonist. "Were you there?"
Global warming is melting polar icecaps in the Peruvian Andes destabilizing Lake Palcacocha threatening a break in a damn that could lead to a tsunami that would overwhelm the city of Huaraz and its 130,000 residents. "Were you there?"
Starvation claims the lives of millions each year, famine is still politically tolerable, famine is not yet morally toxic to political leaders the world over. "Were you there?"
Nearly forty-thousand individuals died from gun violence last year. "Were you there?"
How very heartening to hear the French proclaim faith in the resurrection as they watched the death of their beloved church. Resurrection faith was claimed not just by Christians but by self-proclaimed agnostics and atheists.
The three women who gathered at the tomb on that first Easter heard the angel announce, "Do not be afraid…He is not here…he is going ahead of you." Good Friday was quickly followed by Easter. On Good Friday we can and must embrace the cross and every little crucifixion, firm in the belief that Easter will follow.
Easter invites us to contribute to the rebuilding of the three Louisiana Churches so their members will again have a house of worship. Easter invites us to lighten our carbon footprint so global warming will no longer threaten the people of Huaraz or the lives of our children and grandchildren. Easter invites us to reduce wars, improve humanitarian assistance, address wealth inequality, make famine morally toxic so none of God's children will be in want of food. Easter invites us to quiet fears so "active shooter" drills in schools will become a thing of the past.
A commissioning took place soon after Easter: "Now the eleven disciples went to Galilee, to the mountain to which Jesus had directed them. When they saw him, they worshiped him; but some doubted. And Jesus came and said to them, "All authority in heaven and on earth has been given to me. Go therefore and make disciples of all nations, baptizing them in the name of the Father and of the Son and of the Holy Spirit, and teaching them to obey everything that I have commanded you. And remember, I am with you always, to the end of the age" (Matthew 28:16-20).
We've been commissioned to face every little crucifixion, firm in our Easter faith. On Easter Sunday we greet one another with these words, "He is risen!" responding by affirming, "He is risen, indeed!"