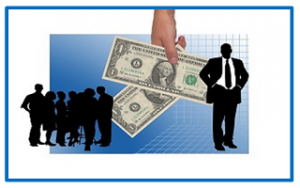 The debate over raising the minimum wage to 15 dollars an hour is intense. Seattle rose its minimum wage to $15 in 2017.  Los Angeles City Council approved a $15 minimum wage beginning in 2020. The minimum wage in Illinois will be $15 an hour by 2025.
The non-partisan Congressional Budget Office reported on July 8 that raising the federal minimum wage from the current $7.25 an hour to $15 an hour would likely cause 1.3 million people to lose their jobs.
Housing Education and Labor Committee Chairman Bobby Scott, D-Va., said the report showed that "the benefits vastly outweigh any costs" of raising the wage to $15, citing its estimation that 27 million would see their paychecks increase.
Business groups countered, insisting "The consequences (of raising the minimum wage to $15 an hour) will be especially brutal for small businesses, which already operate within razor-thin budget margins."
I turned to the Bible seeking guidance and read these words of Jesus, "…for the laborer deserves to be paid" (Luke 10:7).
The author of the book of James writes bluntly: "Come now, you rich people, weep and wail for the miseries that are coming to you. Your riches have rotted, and your clothes are moth-eaten. Your gold and silver have rusted, and their rust will be evidence against you, and it will eat your flesh like fire. You have laid up treasure for the last days. Listen! The wages of the laborers who mowed your fields, which you kept back by fraud, cry out, and the cries of the harvesters have reached the ears of the Lord of hosts. You have lived on the earth in luxury and in pleasure; you have fattened your hearts in a day of slaughter. You have condemned and murdered the righteous one, who does not resist you" (James 5:1-6).
Is $7.25 an hour wages "a laborer deserves to be paid?" Is $15 an hour what a laborer deserves?
In a 2009 study, the DuPage Federation on Human Services Reform reported, "A single parent with two children (preschooler and infant) needs to make $29.31 an hour in order to be economically self-sufficient in DuPage County. Nearly all the jobs that pay in this range require post-secondary education, advanced training and/or many years experience."
The Economic Policy Institute issued a report stating, "Dupage County is one of the priciest places to live in Illinois," and estimated that a family of two adults and two children need to earn a combined $95,602 a year or $7,967 a month to live comfortably. (Go to https://www.epi.org/resources/budget/ to calculate the income a family needs in order to attain a modest yet adequate standard of living.)
Listening to Jesus and reading the Bible inserts us into the debate over minimum wage. I enjoy a bargain but I must stand with laborers who "deserve to be paid" a living wage even if it means I miss the bargains to which I've become accustomed. Prices may increase, and the gap between the earnings of the CEO and the worker may have to close. (Top CEOs make more in two days than an average employee does in one year, according to Grace Donnelly, July 20, 2017 fortune.com, and CEO to Worker Pay ratio: Average CEO earns 204 times median worker pay according to Andrew Chamberlain, glassdoor.com, August 25, 2015.)
Life will be better for all when laborers receive a fair and living wage.
And I will carry this Bible verse with me whenever I go shopping: "Finally, all of you, have unity of spirit, sympathy, love for one another, a tender heart, and a humble mind. Do not repay evil for evil or abuse for abuse; but, on the contrary, repay with a blessing" (1 Peter 3:8).
Including the blessing of a fair wage.