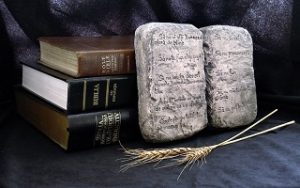 Worship must be spellbinding for me not to squirm after sitting 90 minutes. I have sat through two-hour services, but I'm a Lutheran, and for the most part gladly welcome 60 minutes of worship each week. Patience is needed when asked to sit much longer. So how, I wonder, did those 5th Century BCE worshipers mentioned in Sunday's first lesson listen to the priest Ezra read from the Torah from early morning until midday? (Nehemiah 8:1-3, 5-6,8-10)
Early morning might have been the time of day their worship began; they may have listened from day break to noon.  Or "early morning" might also have been code words for calling attention to divine activity.  The term "morning" is used 200 times in the Hebrew Scriptures, often referring to God at work.  Zephaniah writes (3:5) "Every morning he (God) renders his judgment, each dawn without fail." The prophet Jeremiah rejoices in the morning because the Lord will "Execute justice in the morning, and deliver from the hand of the oppressor anyone who has been robbed" (Jeremiah 21:12).
Perhaps Ezra's listeners were not so much on the clock as they were spellbound hearing God's law leads to joy. Those listening to the priest Ezra wept upon hearing what he had to say. Was this the first time they heard these promises of God?  Had they not been living according to the will of God?  Don't weep in sadness, Ezra is saying, "Go your way, eat … and drink … and send portions …to those for whom nothing is prepared, for this day is holy to our Lord; and do not be grieved, for the joy of the Lord is your strength" (Nehemiah 8:10).
I love going to church.  When Maureen and I are on vacation and not working on a Sunday morning, we schedule two or sometimes even three churches to visit for worship. As I sit in worship, yes, I get ideas to borrow when I get home, but I also hear read, sung and proclaimed good news, joy-filled good news.
We visited one church to see posted prominently on the wall above the altar the Ten Commandments. Some churches post the image of a scroll with the Roman numerals from one to ten and my mind reads each commandment stored in my memory. It's easy for me to imagine the law as the Ten Commandments.
But when listening to the Priest Ezra, we hear much more. God's law, he proclaims, is more than the Ten Commandments. God's law includes the instruction to "send portions" of what we have received "to those for whom nothing is prepared." God's law delivers joy, God's law is sharing with others.
Jesus picked up on this theme, announcing that the greatest commandment is to love God and neighbor. The law of God brings the greatest joy when we willingly accept that we were made for love, love of God and love of others. So often we shy away from the demands of love, but each of us knows from personal experience that loving others brings us the deepest and most profound joy.
So, if I'm to hear proclaimed the joy of God's law on a Sunday morning, I will gladly sit from morning to midday. And not squirm.