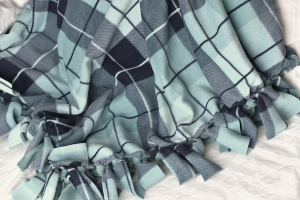 Our Prayer Blanket Ministry meets once a month at LCM (second Tuesdays at 6:30 p.m.). The group is comprised of volunteers who serve God by using their time and God-given talents to make prayer blankets for those in need. As we create each item we pray for continued blessings to follow and that the recipient will feel loved and cared for. We also pray that they will never feel alone and can always sense God's spirit. When one of our blankets is presented to someone, it is a visible expression of care, concern, and God's love. The blankets provide a virtual hug to recipients at times of challenge in their lives. They offer comfort and encouragement: during illness; to those undergoing surgery or medical procedures; or to those who are grieving.
Church members may request a prayer blanket for someone in need by contacting Pat Baehr or emailing your request to her at [email protected].
Our creations are never sold but a donation to our ministry is gratefully accepted in whatever dollar amount you feel comfortable in giving. (Each blanket costs an average of $15-$20 to make. Any licensed fleece, like sports themed or Disney, is more expensive. We use two pieces of fleece, two yards each for every blanket.) We also welcome support from anyone wishing to assist us in this ministry. Donations of money, materials, and time will allow our ministry to purchase more material and continue the ripple effect of Christian love!