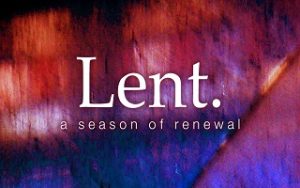 Our 40 days of Lenten preparation for Easter began on Wednesday. The season's name Lent comes from an Anglo-Saxon word lencten meaning spring. Irenaus of Lyons (130-200 CE) was the first to describe Lent as a two to three day fast. The early Christians prepared for Easter with a forty hour Lenten fast remembering the forty hours Jesus remained in the tomb. Soon thereafter Lent was extended to two weeks. (Lutheran Liturgy –Luther Reed)
In 321 Constantine declared Sunday the official day of rest. Much of the Christian liturgy we have today was developed during the 4th century, writes Frank Senn (Christian Liturgy). In 325 the Council of Nicea set Easter as the Sunday following the first moon of the vernal equinox. Easter preparation began forty days earlier during which time catechumens prepared for their baptism at the Easter Vigil. The entire congregation would join the catechumens using these forty days for penitence making themselves ready for a renewal of baptismal vows at the Vigil. Forty days was the number chosen for Lent, remembering Jesus' 40 days in the wilderness. Sundays were not a day of fasting; every Sunday was considered a "little Easter."
In 461 Pope Leo fixed Lent as the 40 days before Easter and in the 6th century, Pope Gregory the Great added the dispensing of ashes on what became Ash Wednesday.
Following the Reformation, the emerging Lutheran Church borrowed much the Roman liturgical calendar. By 1540 Lutherans were observing Lent from Ash Wednesday through the Easter Vigil.  However, writes Frank Senn, fasts were a personal choice and were not to "bind people's conscience." During Lent, altars were adorned in violet or black, songs of joy were omitted, organs were silenced, and weddings were forbidden.
Penitential practices such as abstinence and fasting are common today during Lent and are intended by observers as a time to refocus one's life, words and deeds toward God. The Gospel reading on Ash Wednesday calls the faithful to a life of prayer, fasting and almsgiving.
Lenten discipline is a personal choice. Google "what to give up during Lent" and many suggestions are offered: Don't buy anything that you don't need, replace 30 minutes of TV time with 30 minutes of devotion/prayer time, eat no chocolate and no gossiping.
I will try my best to follow Pope Francis' Lenten fast:
Fast from hurting words and say kind words.
Fast from sadness and be filled with gratitude.
Fast from anger and be filled with patience.
Fast from pessimism and be filled with hope.
Fast from worries and trust in God.
Fast from complaints and contemplate simplicity.
Fast from pressures and be prayerful.
Fast from bitterness and fill you heart with joy.
Fast from selfishness and be compassionate to others
Fast from grudges and be reconciled.
Fast from words and be silent so you can listen.