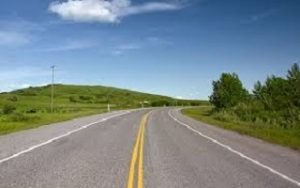 It was the spring of 1957 when Dad steered the '56 Ford onto the newly opened stretch of Interstate Highway 70 from Salina to Abilene, Kansas. On that four-lane open road, Dad held the Ford V8 to a few mph over 70, yielding not to the temptation to drive 90 mph and set a bad example for his kids, despite their pleas.
President Dwight Eisenhower championed the 40,000 miles of divided highway linking American cities and serving as a component of the national defense system.
In the years that followed, Dad marveled over the safety and efficiency of the new roads, an Interstate Highway System that helped him as he traveled the highways spreading the Good News.
An extensive 50,000 mile road system began in Rome in 312 BCE (the Via Appia) and helped the spread of Christianity. St. Paul's successful missionary efforts relied heavily upon the extensive system of roads built throughout the Roman Empire (27 BC to AD 395).
At the end of April, Congress and the White House agreed to a $2 trillion investment in roads, bridges and transit. The agreement included funds for a more efficient energy grid, universal broad band, waste water treatment and work on harbors and airports. According to Representative Peter Defazio, chairman of the House Transportation and Infrastructure Committee, the agreement even included plans for investment in renewable energy.
Investment in roads is needed. The American Society of Civil Engineers reports that 40 percent of bridges in the US are over 50 years old and 20 percent of highway miles are in poor condition. Severe weather is causing serious damage to our deteriorating roads and bridges.
Within a month of the meeting between Congressional leaders and the President, the plan was shelved. It's not that we don't have the money; it's that our tax dollars are targeted elsewhere. "The world is arming itself to the teeth….Global military spending this year rose to $1.8 trillion, according to the Stockholm International Peace Research Institute." US military spending of $649 billion in 2017 was almost as large as was spent by the next 8 countries combined. (The Economist. Apr 28, 2019)
Our church's mission and ministry is greatly enhanced by roads. We drive our cars to church, our children to Bible Camps and on Mission Trips and we travel on roads to other churches for mission driven meetings. But we must find a balance in our federal spending.
In his farewell address on January 17, 1961, President Dwight Eisenhower expressed grave concern about the growing influence of what he termed the "military-industry complex." President Eisenhower cautioned that the "federal government's collaboration with an alliance of military and industrial leaders, though necessary, was vulnerable to abuse of power and he counseled American citizens to be vigilant in monitoring the military-industry complex." (history.com/eisenhower)
It is our responsibility as citizens and as Christians to "be vigilant" and not only keep track of how Congress spends our tax dollars but insist Congress reclaim authority to declare war, authority given under the US Constitution but abdicated for too long a time.
The church's mission is better served by well-maintained roads. At the same time, we need to heed President Eisenhower's advice and vigilantly monitor the "military-industrial complex," calling a halt to endless wars and runaway military spending.
We have roads available to us, let us use every road available to us to tell our nation and the world of the one foretold by Isaiah who we claim to be Jesus: "For a child has been born for us, a son given to us; authority rests upon his shoulders; and he is named Wonderful Counselor, Mighty God, Everlasting Father, Prince of Peace."
"Peace I leave with you; my peace I give to you. I do not give to you as the world gives. Do not let your hearts be troubled, and do not let them be afraid." John 14:27