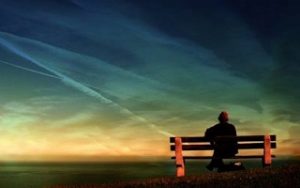 Chicago's world-class museums welcomed many during the spring break, offering visitors stories of cultural, historical and religious importance. Visitors delighted in works of Rembrandt, displays of the latest in DNA research, and explorations into the technological transformation of clothing.
A regularly scheduled visit to our museums is a good addition to everyone's "bucket list."
Back in church, however, a museum visiting strategy has its limits when applied to reading the Bible. The Bible abounds in archaeological treasures. Digging through its pages is a rediscovery of transcendent mysteries, of near hypnotic truths in page after page of this ancient manuscript. The Bible abounds in stories of intimacy between God and individuals.
But the Bible is more than a history of another's relationship to God; it is more than a walk through another's past experience with the Divine.
Sunday we hear these words read from Isaiah, "Do not remember the former things, or consider the things of old. I am about to do a new thing; now it springs forth, do you not perceive it?" (Isaiah 43:18) Memory is precious, a look at the past offers important lessons, but let's not get stuck in the past. What God did "back in the day" was good back then, but God is still at work today. A look at God at work in the past brings understanding of how God works; but God's work is incomplete, God is not finished, God is always calling out, "I am about to do a new thing."
How surprising that the new thing will even include honor from the jackals and ostriches, writes Isaiah. "Jackals," writes Stephen B. Reid, "were associated with desert ruins." Jackals were scavengers and considered unclean. Ostriches symbolized cruelty (Job 39:16), Reid writes, and their meat was unclean. Even the wretched of the earth will praise God in the coming new day, that day when the refreshing water springs forth from the desert.
A "new thing" happened with John Newton. He was 11 when his mother died and he was taken to sea with his sea captain father. He soon developed a sordid reputation which led to a career as a slave trader. Something happened aboard his ship during a storm and his life became an example of God "about to do a new thing." John Newton changed his life. He became chaplain of the English Parliament and wrote a favorite hymn, "Amazing grace how sweet the sound that saved a wretch like me. I once was lost, but now am found, was blind but now I see."
God's work is not finished. The people to whom Isaiah was writing lived in exile as captives in Babylon. If we find ourselves in exile, if everything about us seems foreign and unfamiliar, these words of Isaiah speak to us, inviting us into a new creative moment, "See, I am doing a new thing." May we listen carefully and hear the call into God's new future.