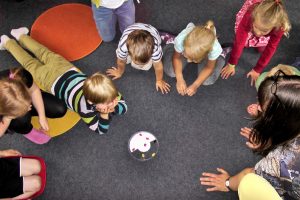 Master's Christian Preschool serves children 2 through 6 years of age in a part-time preschool program. Led by our knowledgeable, experienced staff, our program provides socialization, builds self-confidence, and develops readiness skills in a nurturing, learning environment.
Our preschool is non-denominational, as we do serve children from a variety of denominational preferences. Our purpose is to provide children with a nurturing learning environment, surrounded by God's love.
Located in Lutheran Church of the Master, we welcome you and your child to stop by and visit our school while class is in session. This is a wonderful opportunity to preview the class, tour the facility, meet the teachers, and ask questions about our preschool.